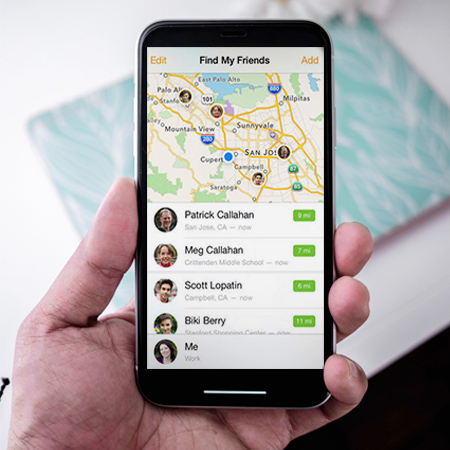 Available apps on the market have so far made it possible to track an iPhone without them knowing. There is absolutely no need of a private investigator with these two ways within your reach. FoneMonitor can enable you to track an iPhone without them knowing in very simple steps. This app will also give you an all round support when it comes to monitoring other activities from the target device.
Besides checking the GPS location, you can spy on WhatsApp videos and messages, check web browser history and even block any sites you deem inappropriate for your child. Start your processes by creating a premium account. Just be armed with your email address and password as you sign up.
The email is where the other set up link will be sent, so ensure you provide a valid email address. Once you receive your account details, log in and go on to finish up the setup process.
How to Secretly Track an iPhone without Permission
You'll be directed to a wizard page where you should key in the details of the target device. The FoneMonitor setup wizard page will require that you provide the necessary information about the target device owner. Provide their name and age accordingly. You should also select the operating system of the target phone and you will be taken to the next step.
It is important to verify the iCloud ID and password of the target iPhone you need to track. Do this by signing in to your FoneMonitor account.
Go on to "Start" and this should enable activation of the administrator service. This process is what promotes the app to work in stealth mode resulting to the target device owner having no clue at all that they are being tracked. The control panel is your connector to the target device.
Go to the function menu at the far top left of the control panel. Click on the refresh icon as this will sync and channel data from the target device. All that is needed is internet connection for some time. Be sure the target iPhone is online for a few minutes a day to enable data to be synced. From the control panel, go to "Locations" feature to be able to view where the target device is.
You can even zoom the location and have a clear view of where the target device is without the owner knowing.
How to Secretly Track Someone Using iPhone
There are those times when you need to track someone via their cell phone to carry out some investigation. There are tracker apps that can serve the purpose except that you need to part with a good amount of bucks for you to succeed. Instead of such, why not go online and trace the target iPhone from there without them knowing via these steps. Step 1.
How to Track An iPhone Without Them Knowing
Go to google and type in "Free tools lookup" Write down the phone number you want to track. The same story as with the regular smartphone. If you want to find out how to track an iPhone by phone number, you need just to know one thing. Phone numbers are personal information and dealing with this point requires some serious approach. Here is the chapter with tips on how to track my phone by Apple. And there are tons of data that is important to us too.
Congrats for landing in the right place!
You can install a special spy app, track it via iCloud or use a special program called Find My iPhone. Both can be free, but the second one is more effective in the free mode. Find My iPhone is a simple to use and powerful tool developed by Apple. It is dedicated to those needs of people who lost their gadgets somehow. Except for those tracking features, this thing can also do few more. Find My Phone works very simply and does not require any special knowledge to use it.
Another great method to find lost iPhone is to use iCloud.
A New Watchlist.
How to Secretly Track Someone's Location With iOS!
5 apps for spying on your spouse - MarketWatch.
4 Ways to Secretly Track Someone's iPhone Without Them Knowing!
Some spy apps even work with this platform as it does not require a jailbreak. The iCloud method offers all the same features as Find My iPhone app. Here is how it works. We should agree with that statement. Spy apps these days are extremely powerful, and you can easily monitor any phone you have access to or know at least few details. Some of those super programs work without rooting Android smartphones and others can deal with non-jailbreak iPhones and iPads.
And the most pleasant thing about these incredible programs is their trial versions.
How To Secretly Track an iOS Device Using MobileMe
Some programs set limits on various features and things like that forcing their customers to buy full versions. Other developers are kind to give their users an opportunity to try the full version of the program and just then buy it. And that is what we all love about those spy apps. Or there is something more? There are lots of various spy apps out there. And most of them have pretty same features with a slight difference in performance, usability quality, and speed.
Here are the main features of spy applications today:. And it is not a limit. Some of them can even record calls and surroundings!
To install a spy app, you just need to visit its official website and download the program. Then create your account on that website and use the app via its control panel. Yes, that simple. Yeah my phone has been attacked without my consent violation of my privacy right has been violated. Top Spying Apps. Start the phone tracker application.
Access your Google Account. Get to the bottom of the page to view all your devices. Choose the phone you want to find out its exact location in real time. Find phone location on a map. Register Samsung account — you need it to access the Find My Phone app. Just go to your Android settings and find Add account button.
Press it to start new account right away. To track a location of a device, the app should be on. Enter your private cabinet — use your personal Samsung ID and password. Track locatio n — it is the main action. Tap the Find My Phone button to start tracking. Location Access — get to the Settings section and tap on Location button. Get into your Google account and find all the devices connected to it. Choose the one you want to track and find it on the map. How to Track a Cell Phone Location for Free with the Number of the Cell Phone All those of you who want to find out how to track a cell phone location for free with the number of the cell phone , we must say that it is almost impossible.
Launch a maximum loud alarm siren so everyone who is near your lost device can hear it. Lock your iPhone remotely from any part of the planet. Needs a special password. Create a special message to show it on the screen of your iPhone to the person who will find it. You need to install the app on your phone and activate it. It is impossible to find your phone if the app is off.
You should just enable Find My iPhone in settings. Start the program, get to your account, and find your device on the map. All the features we mentioned before are also available.
Secretly track iphone
Secretly track iphone
Secretly track iphone
Secretly track iphone
Secretly track iphone
Secretly track iphone
Secretly track iphone
Secretly track iphone
---
Copyright 2019 - All Right Reserved
---